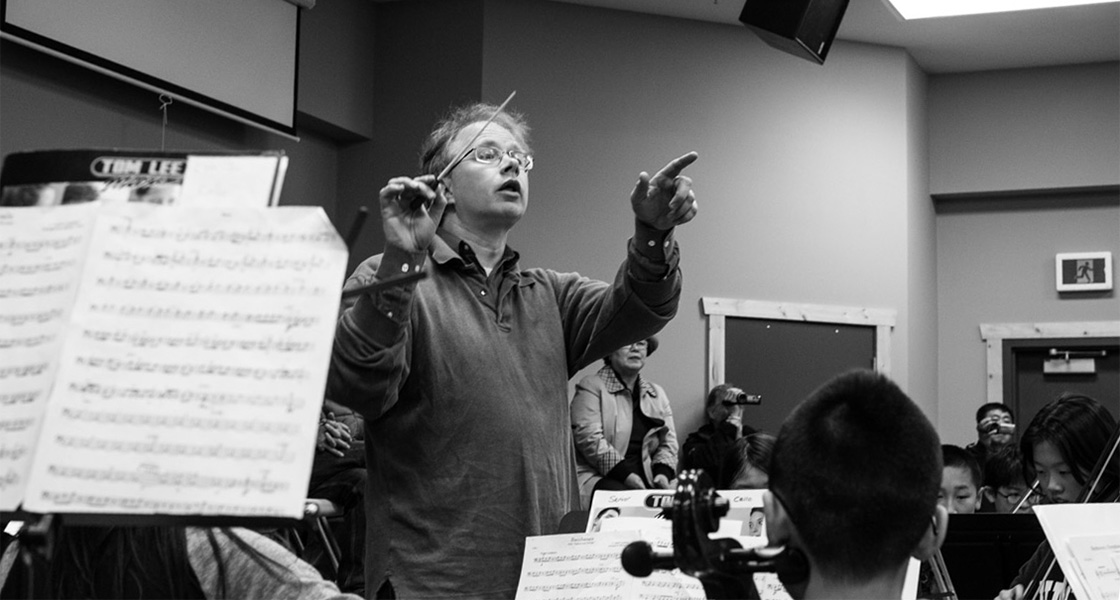 About the Coquitlam Youth Orchestra
The Coquitlam Youth Orchestra began in 2013. Now in its fifth year, it has quickly grown in quality and size from a single orchestra to three orchestras, Junior, Intermediate, and Senior. Students in the the CYO benefit from weekly rehearsals, sectional practices, retreats, and performances. The existence of the CYO has created a community of young musicians and a network of friends that otherwise would not exist. The students learn as much from each other as they do from their conductors and teachers.
The CYO has been asked to perform in city events like the Canada Day Celebrations and the Coquitlam 125 Anniversary Celebrations. Last season the CYO raised $10,850 for the African Drought Crisis which the Canadian government matched making the contribution a total of $21,700.
Rehearsals for the CYO are on Fridays at 3:45-5:15 for the Junior Orchestra, 5:30-7:15 for the Intermediate Orchestra, and 7:30-9:30 for the Senior Orchestra. All rehearsals are held at the Evergreen Cultural Centre.
Dr. Lucia Hyunsil Roh – Junior Orchestra Conductor
Dr. Roh completed a Doctor of Musical Arts degree in violin performance at the University of Wisconsin-Madison, with a minor in music education and string pedagogy. She also holds a Master of Music degree from the Shepherd School of Music at Rice University, and a Bachelor of Music degree in violin performance with distinction from the Eastman School of Music. Dr. Roh has received Suzuki teacher training certification in San Diego.
Dr. Roh enjoys a multi‐faceted career as a recitalist, chamber musician, and orchestral player throughout North America, Europe, and Asia. Some of her performance career highlights include a lecture-recital at the International College Music Society, a solo recital at Sejong Hall in Korea, and serving as a tenured member of the Madison Symphony Orchestra from 2007 to 2010. In addition, she served as the concertmaster for the MSO's annual "Symphony Soup" concert, presented to familiarise students in kindergarten through third grade with key concepts in classical music. Other orchestral engagements have been with TIMF, Seoul Sinfonietta, Madri Chamber Orchestra, the Milwaukee Symphony, Wisconsin Chamber Orchestra, Elgin Symphony, and Madison Bach Musicians. Dr. Roh has also appeared at many international festivals such as THY in Denmark, the Music Academy of the West in California, the National Institute Orchestra in Maryland, the Garth Newel Music Center in Virginia, and the Chautauqua Institution in New York.
Dedicated to community outreach, Dr. Roh represented the Madison Symphony Orchestra and the University of Wisconsin-Madison in live performances and educational presentations in elementary schools throughout southeastern Wisconsin. Her passion for teaching could be seen through her chamber music and orchestra sectional coaching at the Wisconsin Youth Symphony Orchestra, UW-Madison, and UCLA. She also taught at Music Makers, a non-profit organization in Madison, Wisconsin. Dr. Roh wishes to enrich the community through programs and collaborations that increase access to and appreciation of classical music.
Reg Quiring – Our Founder & Intermediate and Senior Orchestra Conductor
Reg Quiring saw a need for a youth orchestra in this area of the lower mainland several years ago and decided to pioneer its exitence in 2013. Originally conceived as a single orchestra it immediately blossomed into two. In the third year Reg found that there were enough students joining that he could create the third orchestra. He has found running and conducting all three orchestras extremely rewarding and he has enjoyed getting to know the many young and talented musicians from each orchestra.